Embraceable (and Affordable) New Pinot Noir Releases from Oregon
"I think if you asked most people what's the next best place outside of Burgundy
that makes Pinot Noir, hopefully, it's the Willamette Valley."
Steve Doerner, winemaker at Cristom Vineyards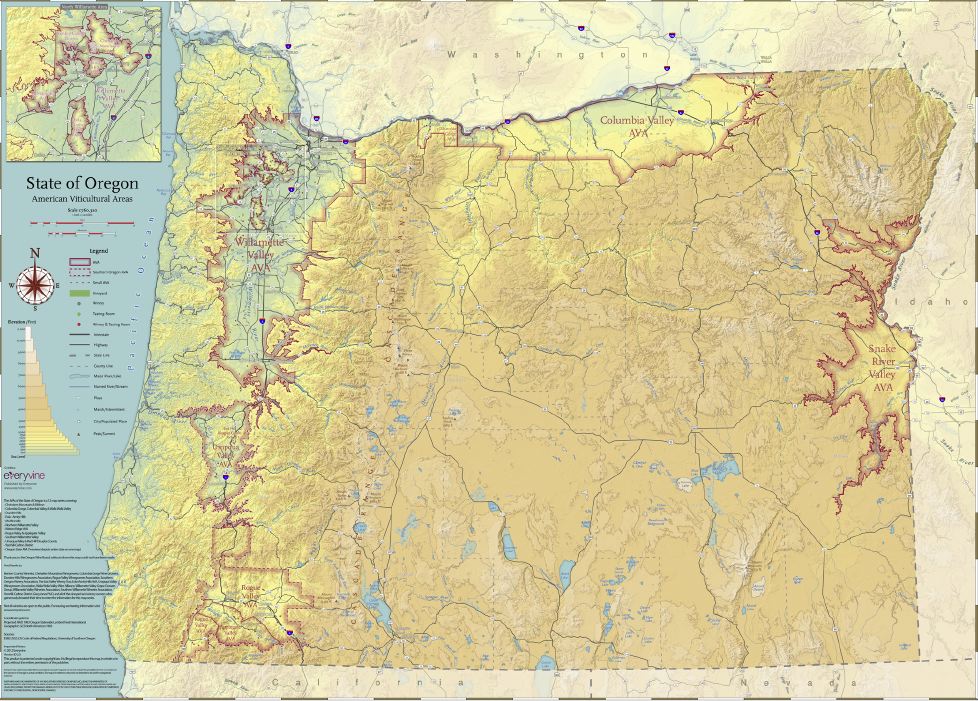 When you scan the scores of the Willamette Valley Pinot Noirs to follow, you may think they are inflated. It is important to realize that these reviewed wines are a highly selective group, taken from some of the most respected producers in Oregon. I warn you that once you have tried some of these Pinot Noir wines, you will be hopelessly hooked and you will eagerly seek them out.
Most of the wines are from the 2015 vintage. Overall, this was a relatively hot and dry year with an early harvest in mid-September. Spring was early and warm, summer was also quite warm with some later July and early August heat spikes. It is not unusual to see ABVs in the 14.0% to 14.5% range in this vintage, a range quite common in California, but unconventional in Oregon.
LUMOS Wine Company, Philomath, OR
The backbone of LUMOS Wine Company, founded in 2000 by Dai Crisp and spouse PK McCoy-Crisp, is the Temperance Hill Vineyard located on the crown of the Eola-Amity Hills. First planted mostly to Pinot Noir in 1981 by original owner Edward Koo, the Temperance Hill Vineyard is one of Willamette Valley's most iconic vineyards. Today, the average vine age is 37 years.
The 97-acre Temperance Hill Vineyard, at 6020 Bethel Heights Road NW in Salem, sits at 660-860 feet elevation on the remnants of an ancient volcano, making it a cool, late ripening site. It is exposed to the maritime winds through the Van Duzer Corridor creating large daily temperature swings that result in good flavor development and bright acidity. Plantings are divided into 22 blocks include primarily Pinot Noir and small amounts of Pinot Gris, Chardonnay and Gewürztraminer. There are a variety of soil types, but primarily Jory, Nekia, and Ritner. The vineyard is adjacent Bethel Heights Vineyard.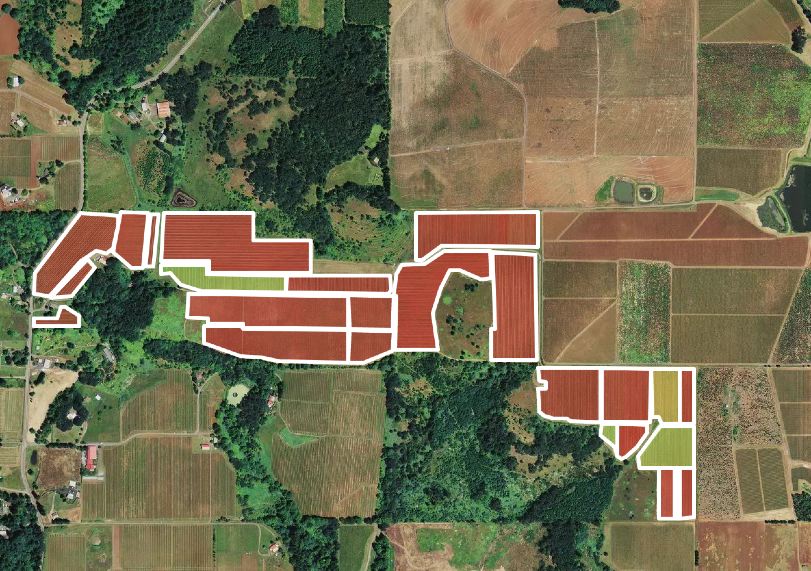 Crisp was educated in my neighborhood at University of California at Irvine, majoring in theater arts and continued his studies at Oregon State University where his interest in viticulture arose. He began growing grapes professionally at Wren Vineyard (1985 to present) and at Croft Vineyard (1989-1998) and since 1999 has been managing the Temperance Hill Vineyard. Farming at Temperance Hill Vineyard is fully certified by Sustainability in Practice, Salmon Safe and USDA Organic. Wren Vineyard, originally planted by Crisp in 1985 to Pinot Noir, Pinot Gris and Chardonnay, is Certified Organic and Salmon Safe. Crisp also farms Logsden Ridge (Rudolfo) Vineyard, located just north of Corvallis and planted to Pinot Gris.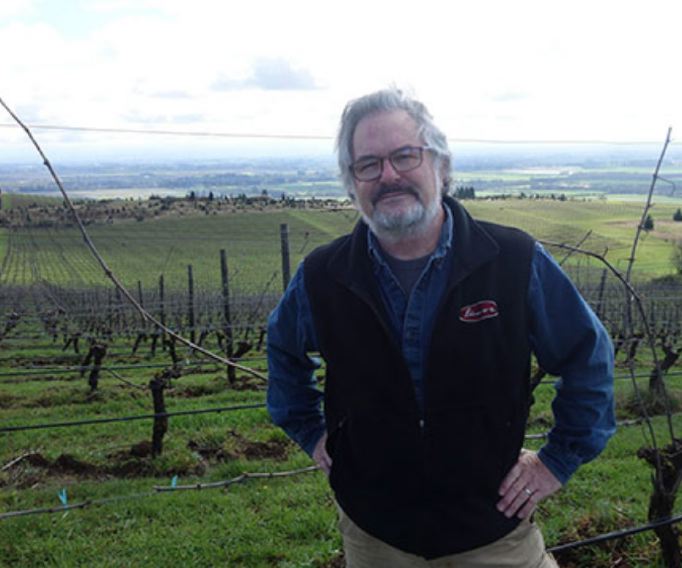 Temperance Hill Vineyard currently supplies fruit to 22 wineries including Antica Terra, Bergstrom, Brooks, Chapter 24, Elk Cove Vineyards, Evesham Wood, Lange Estate, Lavinea, Nicolas-Jay, St. Innocent Winery, Vincent Wine Co. and Walter Scott.
Crisp not only farms over 120 acres of vineyards, he also makes the wine along with Julia Cattrall for LUMOS Wine Company. The philosophy that drives his viticulture also influences his winemaking. Only natural processing techniques are utilized in the winemaking and no animal by-products are used so the wines qualify as vegan. LUMOS was the first Food Alliance Certified Winery making wine only from Food Alliance Certified vineyards in Oregon.
LUMOS Pinot Noir wines reviewed here are very special in the 2015 vintage and represent unusually high quality at relatively reasonably prices. In fact, I would claim that these wines represent some of the greatest values in the Oregon Pinot Noir marketplace today. With consistent accolades, the wines should be increasingly difficult to obtain. All 2015 Pinot Noirs were released in October 2017. The Wren Vineyard Chardonnay, released in April 2017, is a perfect example of the current resurgence of Oregon Chardonnay.
A tasting room is located on the Crisp family farm in Wren, Oregon, 16 miles west of Corvallis. A cabin left standing on the property from a dude ranch that occupied the site in the 1940s was converted into a small tasting room. One of the dude ranch's original guest cabins adjacent the vineyard is available for overnight rental. The wines are processed in McMinnville.
The back label of the following wines states, "Bottled During Oregon Eclipse 8/21/17."
2015 LUMOS Five Blocks Willamette Valley Pinot Noir
14.0% alc., 449 cases, $25. · Moderate garnet color in the glass. Love this nose! Aromas of dark cherry, warm spices, toast and rose petal. Forward drinking and welcoming, with mid weight flavors of black cherry, ollaliberry, spice and the right touch of oak. Silky and seamless, with fine-grain tannins and an agreeable finish. Consistently one of Oregon's best values in Pinot Noir. Score: 91
2015 LUMOS Temperance Hill Vineyard Temperance Hill Eola-Amity Hills Pinot Noir
14.0% alc., 196 cases, $45. · Moderately dark garnet color in the glass. Aromas of blackberry, herbs and seasoned oak echo on the nose. Very charming, with a nicely spiced mid weight blackberry fruit core. The tannic backbone is substantial but not at the forefront. The subtle oak treatment delights. What sets this wine apart is the remarkably persistent finish. Like Tom Brady, it's all about the finish. Score: 95
---
Click here to read the original article
---
Click here to learn more about Lumos Wines