Bonjour Bourgogne!
Imagine grand châteaux, wine vineyards, limestone cliffs, intriguing caves, the Morvan National Park, Forest des Bertranges, picturesque rivers and canals, and you have arrived in Bourgogne, aka Burgundy.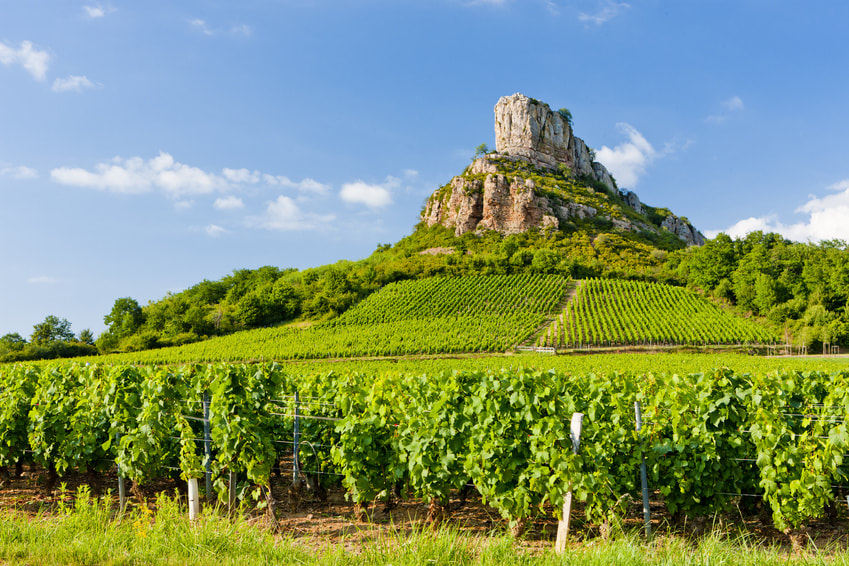 Photo credit: French Entree
To begin, Bourgogne is the French name for Burgundy. According to the Bourgogne Wines Board, "To re-affirm its identity as one of the most iconic vineyards of France, the region and its producers are reverting to the original French iteration of its name – Bourgogne. By maintaining this one identity, Bourgogne returns to its historical roots as the consummate brand treasured by consumers the world over."
Located in the east-central part of France with over 74,000 acres of vineyards, Bourgogne is recognized worldwide and is considered the classic region for growing and producing Chardonnay and Pinot Noir. The region is made up of five major growing areas each with its own unique climate and soil as represented on the map below.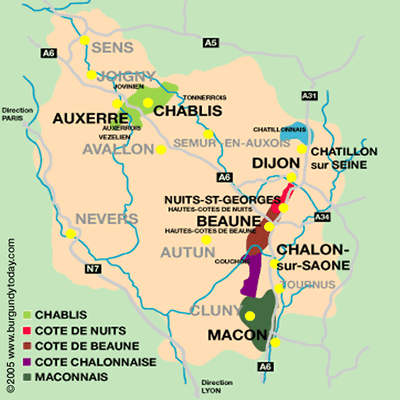 Map credit: Burgundy Today
Chablis is to the north with a cool continental climate and as we move south the climate is predominantly moderate continental. The soil types vary and can change significantly over small areas due to small geological faults, combined with gradual erosion. It is important to note that limestone is the primary soil that influences the character and quality of Bourgogne wines in addition to the microclimate and grape variety.
Bourgogne has a very complex and quite comprehensive classification system. There are 84 Appellations d'Origine Contrôlée (AOCs) throughout Bourgogne and four levels (classifications) of wine within the region starting with Regional, Village/Communal, Premier Cru and ending with Grand Cru. The regulations become stricter and pricing increases as you advance up the levels.
Within the Bourgogne AOC, the Régionale appellations have their own geographic denominations with one of them being DGC (dénomination géographique complémentaire.) DGC wines have more restrictive production conditions than those of Régionale appellations without a denomination.  There are 14 DGCs of the Bourgogne appellation with their own levels as well. Did I mention a complex system? Are you confused yet?  I certainly am! So, let's move on and dive into four wines representing the Bourgogne DGC appellation.
Vigneron de Buxy Bourgogne Côte Chalonnaise Buissonnier Rouge 2015
Cave des Vigneron de Buxy is a collective initiative comprised of 120 winegrowers and family farms.  They are located in the Bourgogne Côte Chalonnaise regional appellation. The boundaries extend from Montagny in the south up to Chagny in the north, ending just south of Côte d'Or.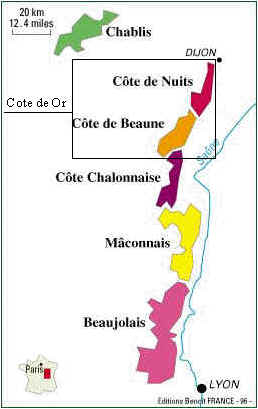 The grapes for this wine were selected from plots located in the middle of hillsides with shallow soils of clay and limestone with very stony grounds. Vinification takes place in stainless steel vats and then in casks or oak casks. Duration of aging in wood is dependent on the vintage.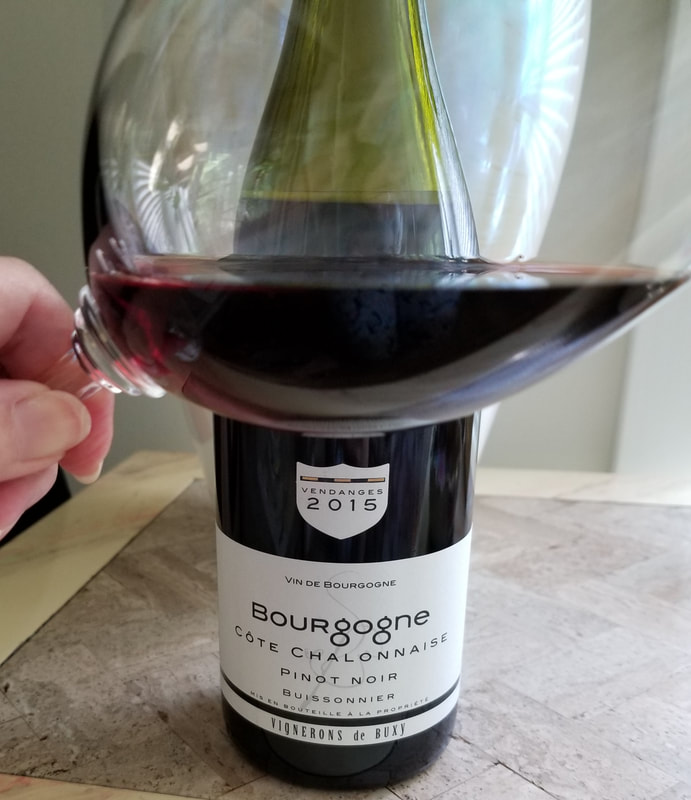 Photo credit: Penny Weiss
This is 100% Pinot Noir with a dark ruby color bordering on brick.  Succulent aromas of berries, cherry and spice spill onto the palate with bursts of dark cherry, rich and jammy fruit, spice and earth followed by a finale of pepper and vanilla. It is a perfect balance between the acidity and soft tannins. Pair with game, meat, grilled tuna and veggies.
Alcohol:  13%
SRP:  $16.99
These are considered entry-level wines, but they are complex, refined and quite enticing.  And they undeniably represent the terroir of Bourgogne.  It just goes to show you that one doesn't have to spend a fortune to indulge in the wines of Bourgogne!
Until next time…
Cheers!
Penny
---
Click here to read the original article
---
Click here to learn more about Vigneron de Buxy Bourgogne Côte Chalonnaise Buissonnier Rouge